Music for primary aged children
The Speaking Piano (2012). Piano.
An outreach project for the Goulburn Regional Conservatorium of Music, premiered by Michael Kieran Harvey. Includes music for beginner and intermediate piano players, a classroom (pitched and unpitched percussion) arrangement, and concert music for a professional. Associated resources include an illustrated story book, an eBook for iPad and a webapp.
The Speaking Piano has its own website - click here to visit it. The video below is an introduction to the story the project is based on.
Small Stars (2012). Text by Khayshie Tilak-Ramesh. SSA Choir, String Orchestra.
Commissioned and premiered by Girton Grammar School. Note: strings parts are for senior performers, but a piano reduction is available to replace strings.
Symphony of the Child (2009). Orchestra, extended Percussion, SATB Choir. Note: each movement of the Symphony is for different aged children. The first movement was designed for pre-school and primary school children with senior orchestra and professional trumpeter. The singing and percussion parts for primary children are very simple. The second movement is more suitable to middle school children (late primary to early secondary in many countries), again with senior orchestra, and the fourth movement has singing parts for younger children.
Commissioned by International Grammar School, Sydney.

Download a sample of the teaching notes and sample score of the first movement, and play an excerpt of the first movement below.
Kiravanu (2008). Text by Mary Elizabeth. Children's Opera with a wide range of vocal and instrumental parts for children aged 5 to 12 with pit orchestra (Fl, Ob, Tbn, Hp, Strings). Kiravanu has its own website: www.kiravanu.com
Commissioned and premiered by MLC School.

Download the sample teaching kit, and watch the story of Kiravanu below.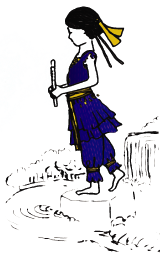 Daedalus and Icarus (revision – 2009). Text by John Hughes. Four part children's Choir, solo Violin, String Quartet, Piano.
The revision was premiered by MLC School under James Humberstone at Angel Placea and again in 2011 at the International School of Beijing.

Download a sample of the score, and listen to the complete Angel Place performance by MLC School below.
Nocturna's Stars (2008). Four part children's Choir, Harp, String Quartet.
Commissioned and premiered by MLC School at the Sydney Opera House under Anna Humberstone.

Download a sample of the score, and watch the premiere performance below.
Daedalus and Icarus (2006). Text by John Hughes. Four boy sopranos, solo trumpet, piano and strings.
Commissioned and premiered by Sydney Grammar School, St Ives. See the revised version (2009) above for a recoring.
The Future (2005). Orff ensemble, Electric Keyboards, samples, Piano, Descant Choir, Percussion, Violin ensemble.
Commissioned and premiered by Aitken College, Vic.
Today is Tomorrow Beginning (2002). Text by Maxine Leary. Orchestra and Descant Choir in 2 parts. See also the 2006 revision under middle school music which includes extended Orff ensemble (could possibly be performed by older primary school children).
Commissioned and premiered by Martin Smith and the Sydney Grammar School Prep, St Ives.
Duet for beginner violins (2002). Two Violins.
Composed for two preliminary grade violinists.

Download a complete copy the score.
Simple Suite for Strings (1999). String Orchestra.
A very simple suite for beginner string ensembles which will introduce a few new pitches outside D major.
Much of James' piano music is simple enough for young children to play. See the Solo section under Concert Music for scores and recordings.